Sando is a bodyguard of an Angyo Onshi. In the series of Shin Angyo Onshi, only three sando has appeared.
Chun Hyang
Edit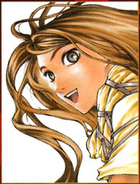 Chun Hyang is the sando of Munsu. Originally, she wanted to be Mong Ryong's sando. But, since Mong Ryong is killed, instead, she offered herself as sando to Munsu, which he accepted. As a sando, she has a great swordmanship skill and agility, which greatly help Munsu in his journey.
Hwang's Sando
Edit
Hwang's sando is the only beast sando. Its appearance is like a wolf.
Ad blocker interference detected!
Wikia is a free-to-use site that makes money from advertising. We have a modified experience for viewers using ad blockers

Wikia is not accessible if you've made further modifications. Remove the custom ad blocker rule(s) and the page will load as expected.